If you are on this page, that's because I've invited you. Hopefully you're an English teacher.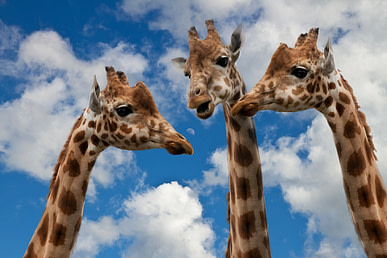 teachers sharing (we have to have long necks to see far)
Please sign up if you want to join me (and other teachers) in staying in touch and sharing what is important.
By signing up you will be getting (from me and anyone who wants to share) personal stories, teaching tips and inspirational ideas.
(I will not sell you anything – at least not on purpose. Well, maybe some clients and ideas. Sometimes I also accidentally send an email to you that is meant for someone else. Anyway, you get the idea)
Here's a sample email I sent. If you like it, then you'll probably like getting messages from me and other teachers.
Idiom: netlač na pilu.
The Czech have a beautiful saying/idiom: netlač na pilu. There's a great life lesson in this.
My children and I were cutting wood for the winter. (I say children, but they are 17 and 15. My son is taller than me – So yeah, they're my children, but they aren't kids anymore – you know what I mean.)
I was letting my daughter cut with the chainsaw and my son chop the wood. (You can see a video of it here if you want.)
At first I could see my daughter pushing on the saw.
"Stop cutting for a moment." I said to her. She stopped cutting. "Take it easy. Don't push so much. Let the saw do the cutting, you're just guiding it. The blade will last longer, and it won't be so hard."
She started cutting again. I watched how she just guided the saw letting the blade do the work. Good for her 🙂
"It does cut easier." She said, after she cutting the log. "It doesn't take as much energy."
My son's situation was similar, but this time he told me.
"I'm trying to let the weight of the axe chop the wood." He let the axe fall on the wood. It split with a crack falling to each side of the chopping block. "I want to see how much…or how little pressure I need." He raised the axe again letting it fall. This time it stuck in the wood. He took it out and brought it down with more pressure.
I smiled. They would get it.
Looking at them cutting and chopping wood I saw a deeper lesson maybe I could share. Maybe they didn't see it but who knew? It seemed like a good idea to try and show them.
"Do you see how this applies to other things in life?" I asked them.
"Like what?" My son asked.
"You know," I said, "Like talking to people and working on things…when you have something to do, you don't need to push too much." I talked a little more about it. At some point I realized they were just letting me talk and they already knew what I was going to say.
"Yeah, dad, we see." My son said, "You don't need to tell us."
"Of course," My daughter shook her head, "You always want to show us how this lesson means something else."
Maybe they had learned this lesson more than I realized.
I do look at a little lesson in one activity and see how it applies to other aspects in life. Isn't that what life's about?
So where could I apply this lesson?
It was directly with them. Let the weight of the lesson be enough for them to see it in other parts of their lives. Sure, give them guidance, but don't push it. (I don't think I did at least, not this time.) And yet, this has many applications. I'll talk more about that later.
Why am I sharing this? Obviously I like sharing, but there's a deeper reason. Maybe you can learn from me.
Is there a place you can ease up? Let the weight of the situation carry the lesson, and not try so hard?
I hope so.
I'd love to hear about it.
Until next time,
Keep thriving,
Steven